Overview
Sketch, InVision, Sketch Up, C4D, React
In summer 2019, I interned at
IBM Watson IoT team
, which aimed to provide solution for Industry Solution using IBM cognitive technology. In this project, we designed a IoT platform for 
pharmaceutical companies
 to better monitor and maintain the
 Air Handling Unit (AHU)
in the factory, in order to avoid product shutdown, decrease maintenance cost, analyze root causes, and provide recommendations. 
This system is designed based on
IBM Maximo PMI
(Predictive Maintenance Insight ) &
EMA
(Equipment Maintenance Assistant)
I collaborated with design mentor and develop team to deliver
user research
,
case studies
,
prototypes
, and
minimum viable product (MVP)
to our clients and IBM executives.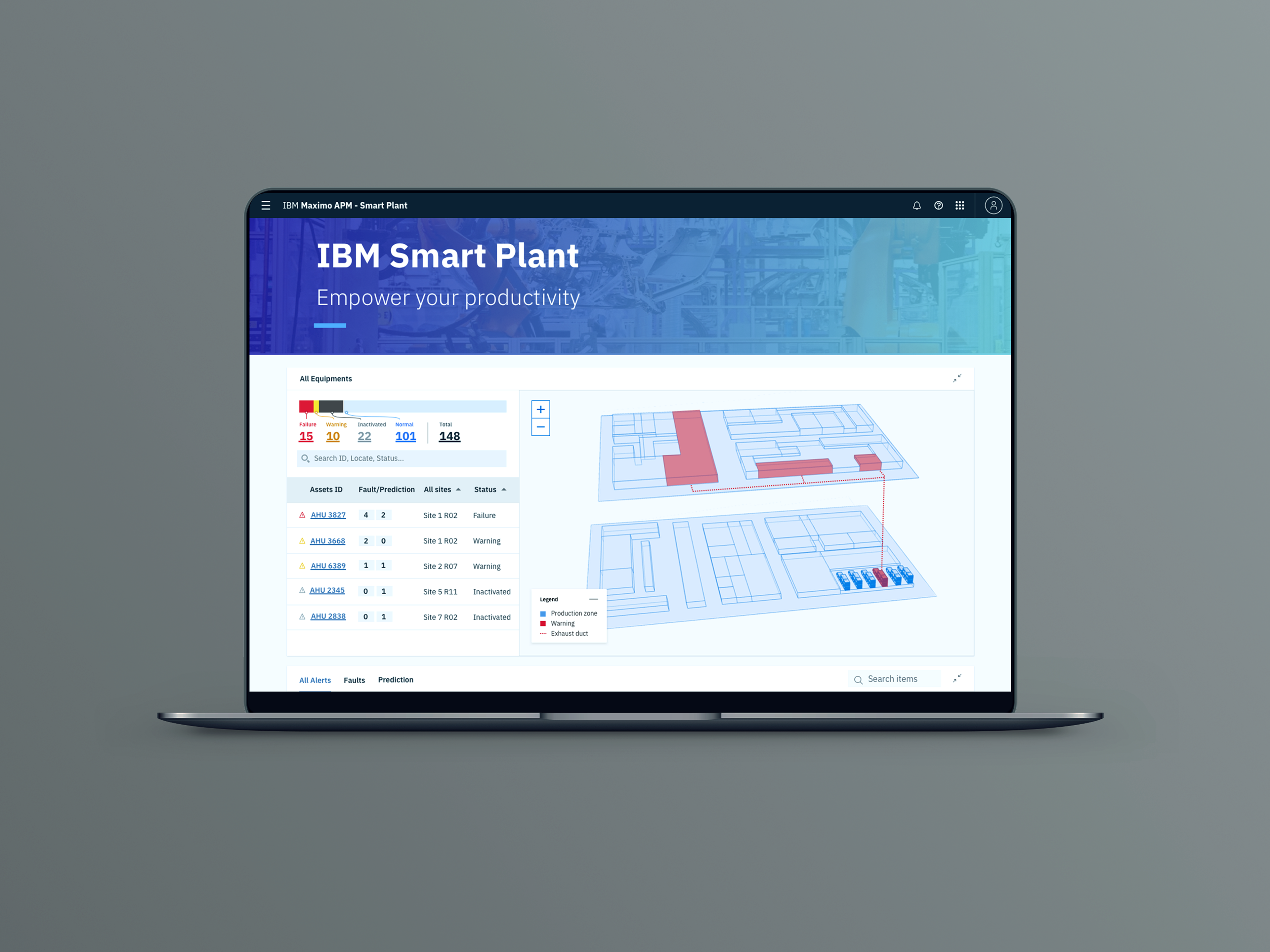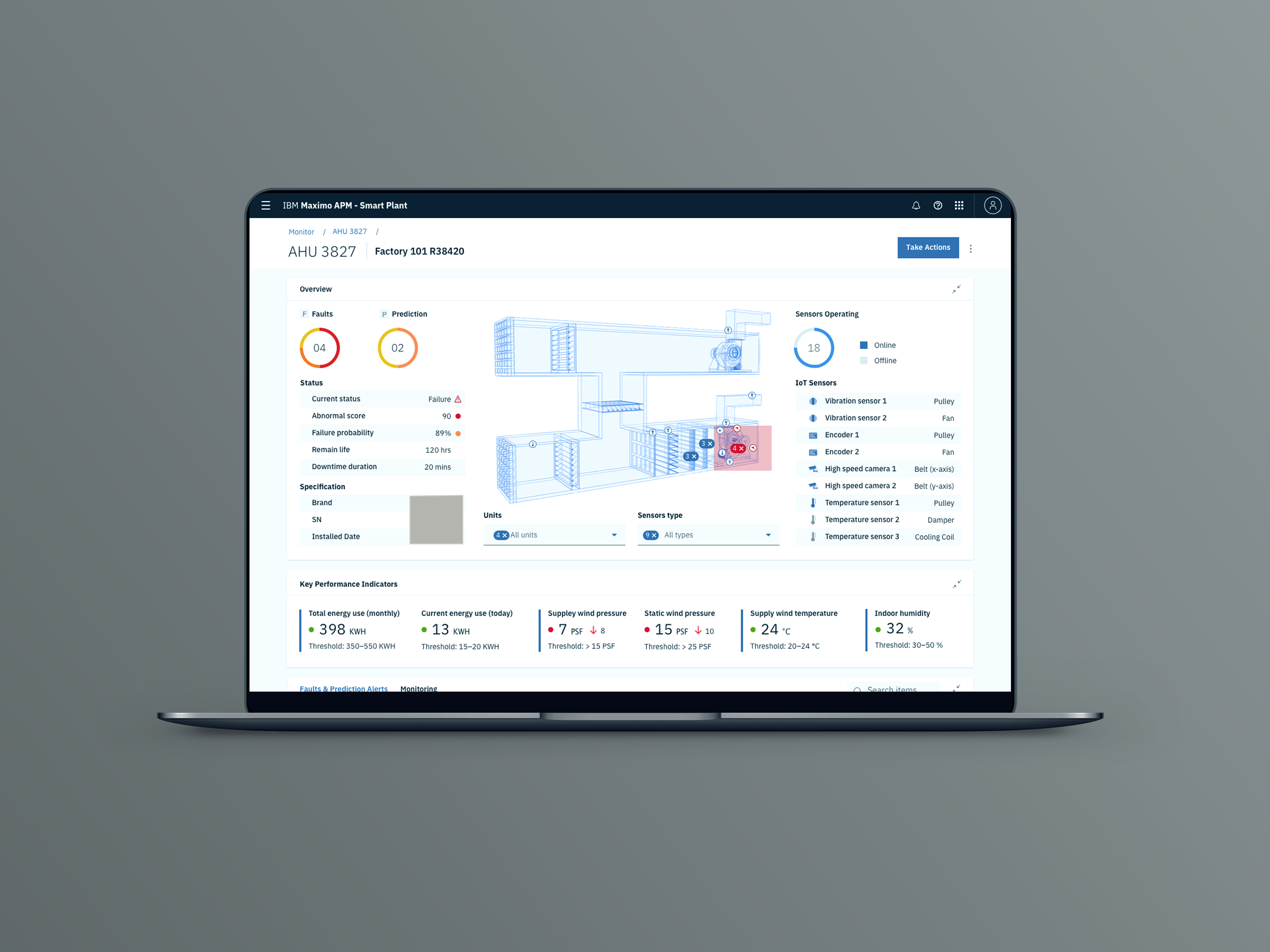 Domain Research
Air handling unit (AHU) is a device used to regulate and circulate air as part of a heating, ventilating and air conditioning (HVAC) system. An air handler is usually a large metal box containing a
blower
,
heating
or
cooling element
,
filter racker
or
chambers
,
sound attenuators
, and
dampers
.
I created these two AHU diagram to help other team members to understand AHU with my research. We also use these two diagrams to make sure we understand our clients problems.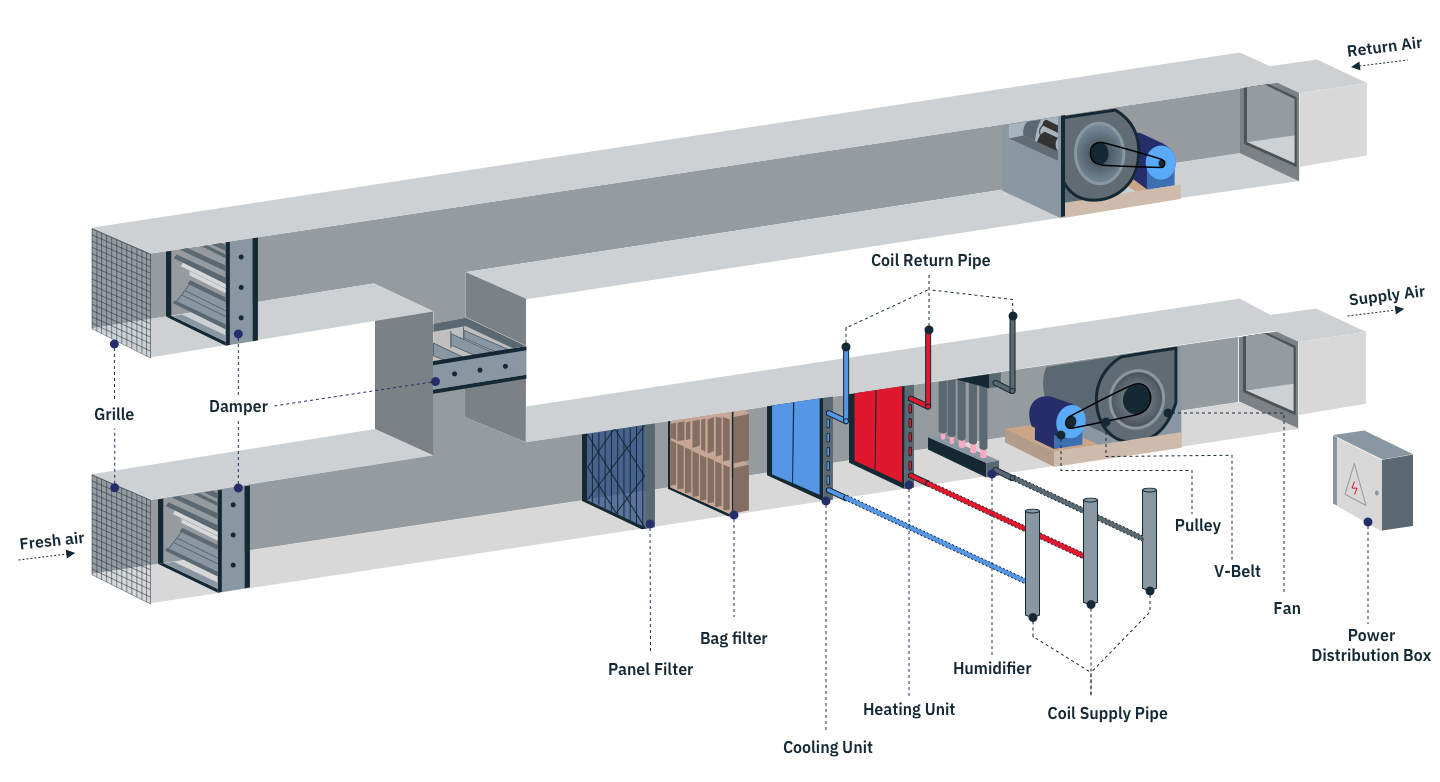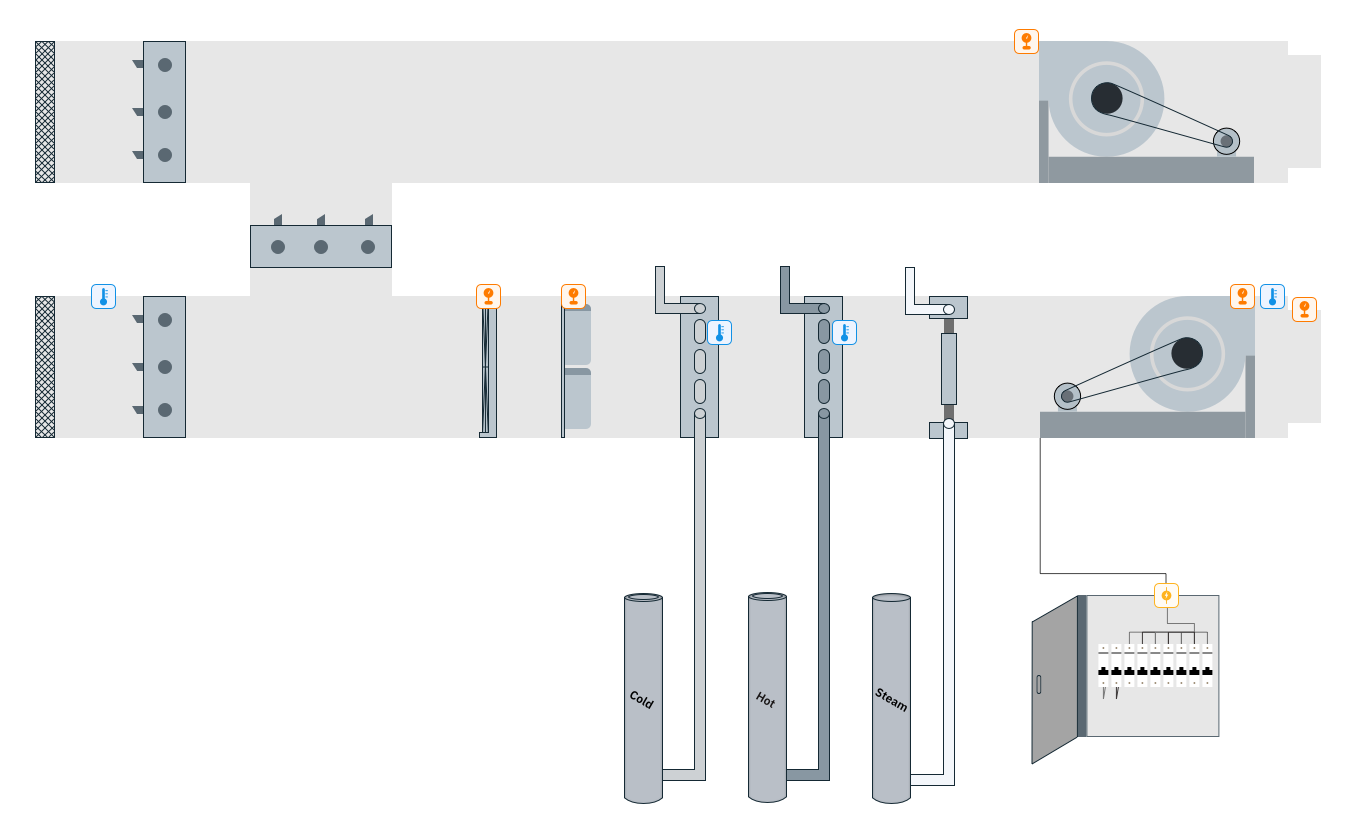 AHU is very important for pharmaceutical factories because medicine production requires high standards of wind pressure, temperature, and humidity control. If the AHU isn't working properly, the production needs to be shut down and medicine that is predicted during that time needs to be destroyed. Consequently, AHU malfunction will cost tremendously loss for the company.

Case Studies
I also research some current examples of IoT solution for Industries. IBM and Siemens published a number of resources about their IoT solutions and application online. These videos allow me to better understand how to design application for factories.

User Research
Before pitching ideas to the client, I need to understand our users clearly. There are two potential users we need to focus on. one if Reliability Engineer, and the other is Field Technician. In order to understand their job responsibilities and daily tasks, I use LinkedIn as a research tool to look for their job description.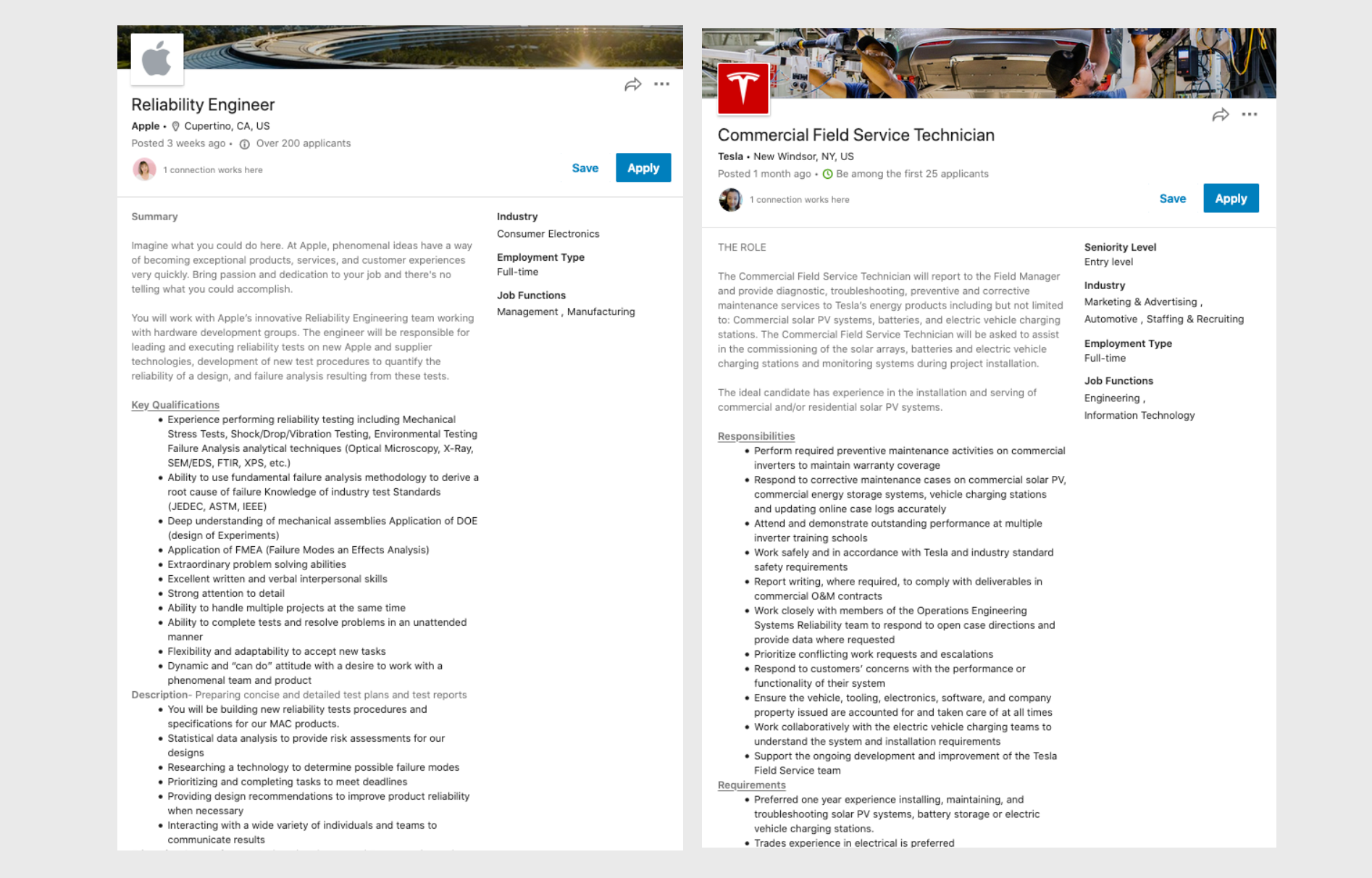 The research results provide that 
reliability engineer
is the target user of the IoT Platform. They are responsible for monitoring AHU condition and looking for potential failure. If he finds any issues, he will assign Field technician work orders to fix the problems.
Meanwhile, he will collaborate with statistical staff to record and organize daily production data. This data will use used for root cause analysis. 
The report will be sent to quality control manager and production manager.

Based on this insights, I create following persona and empathy map to identify users goals and pain points.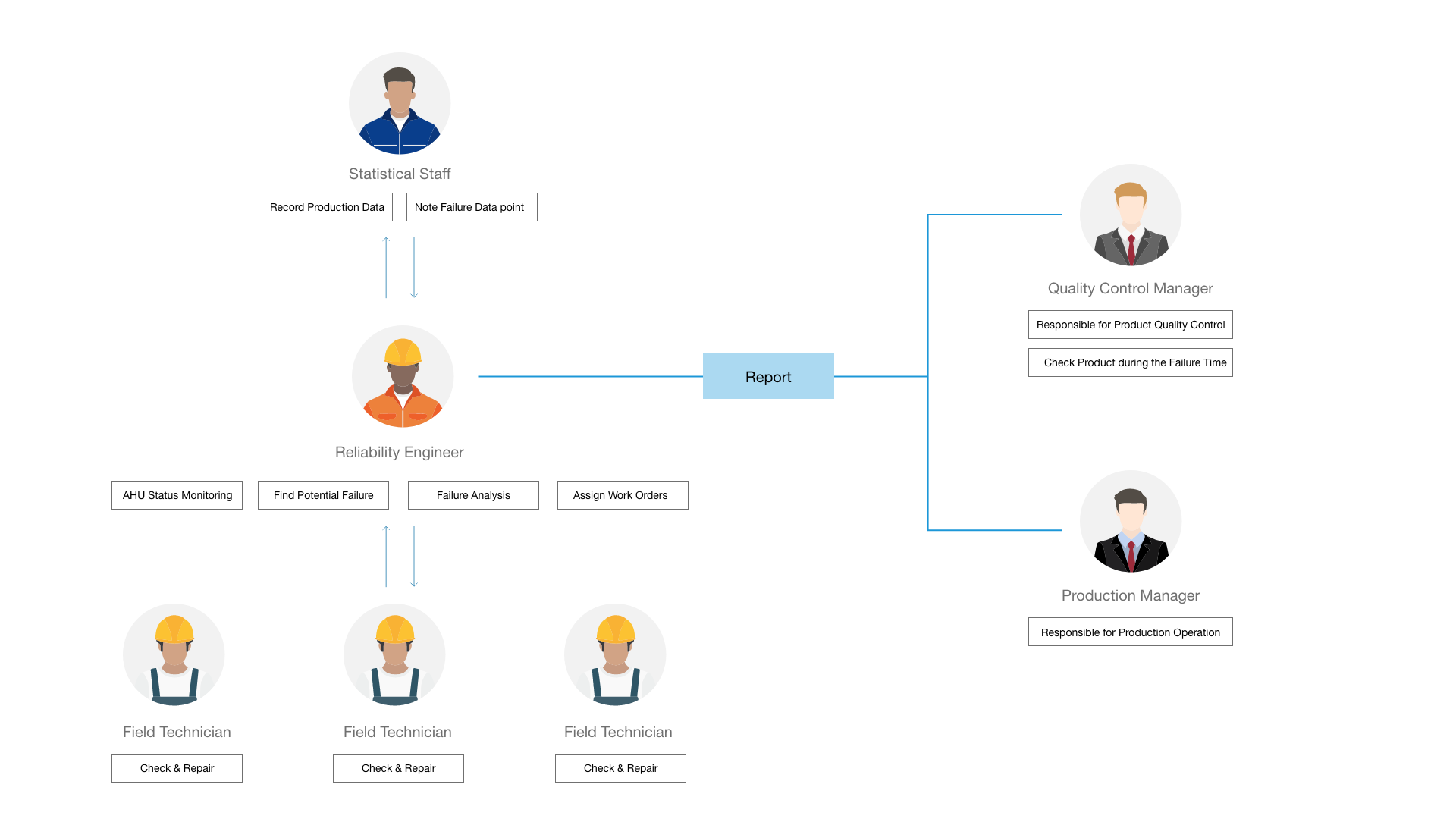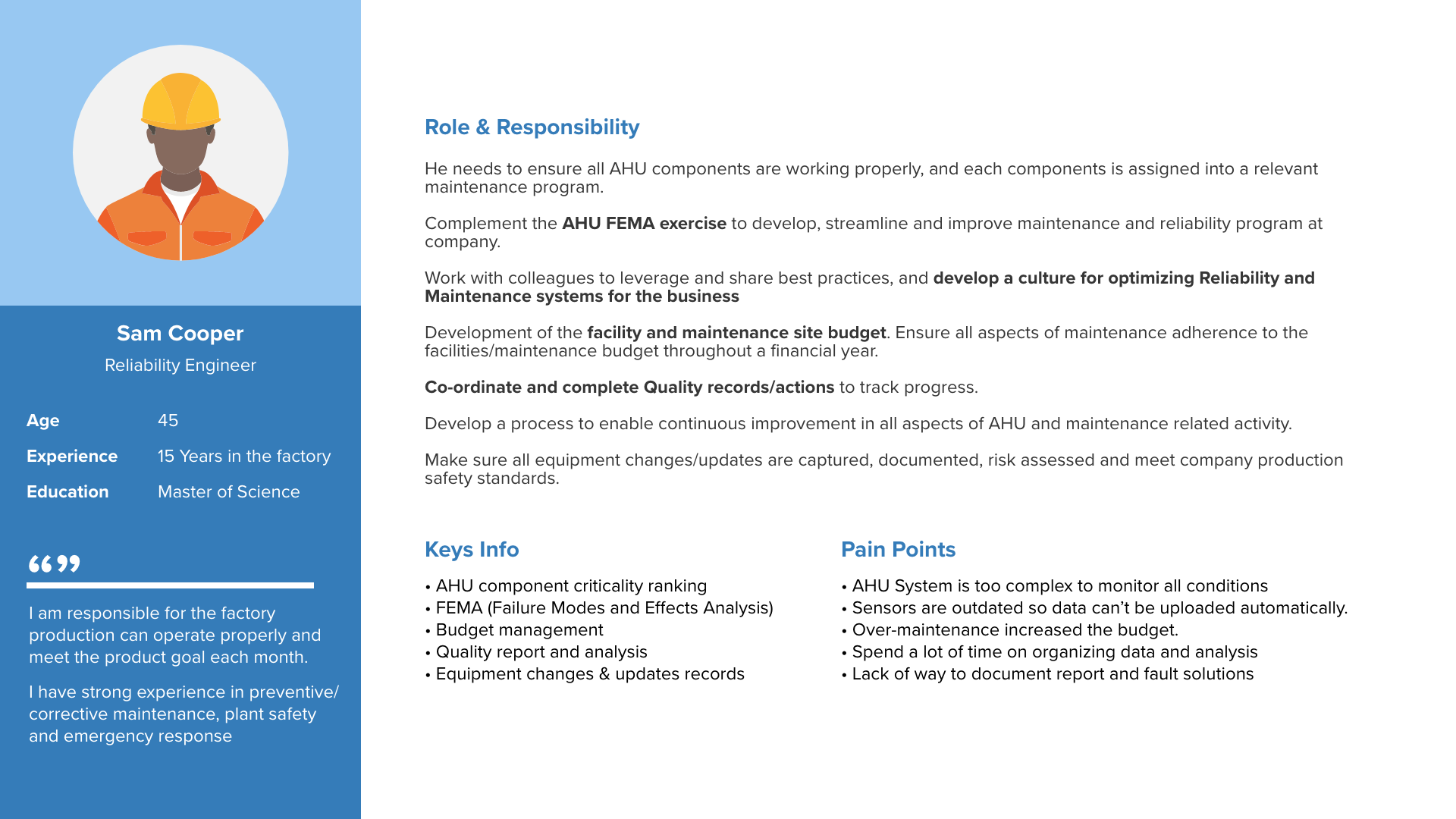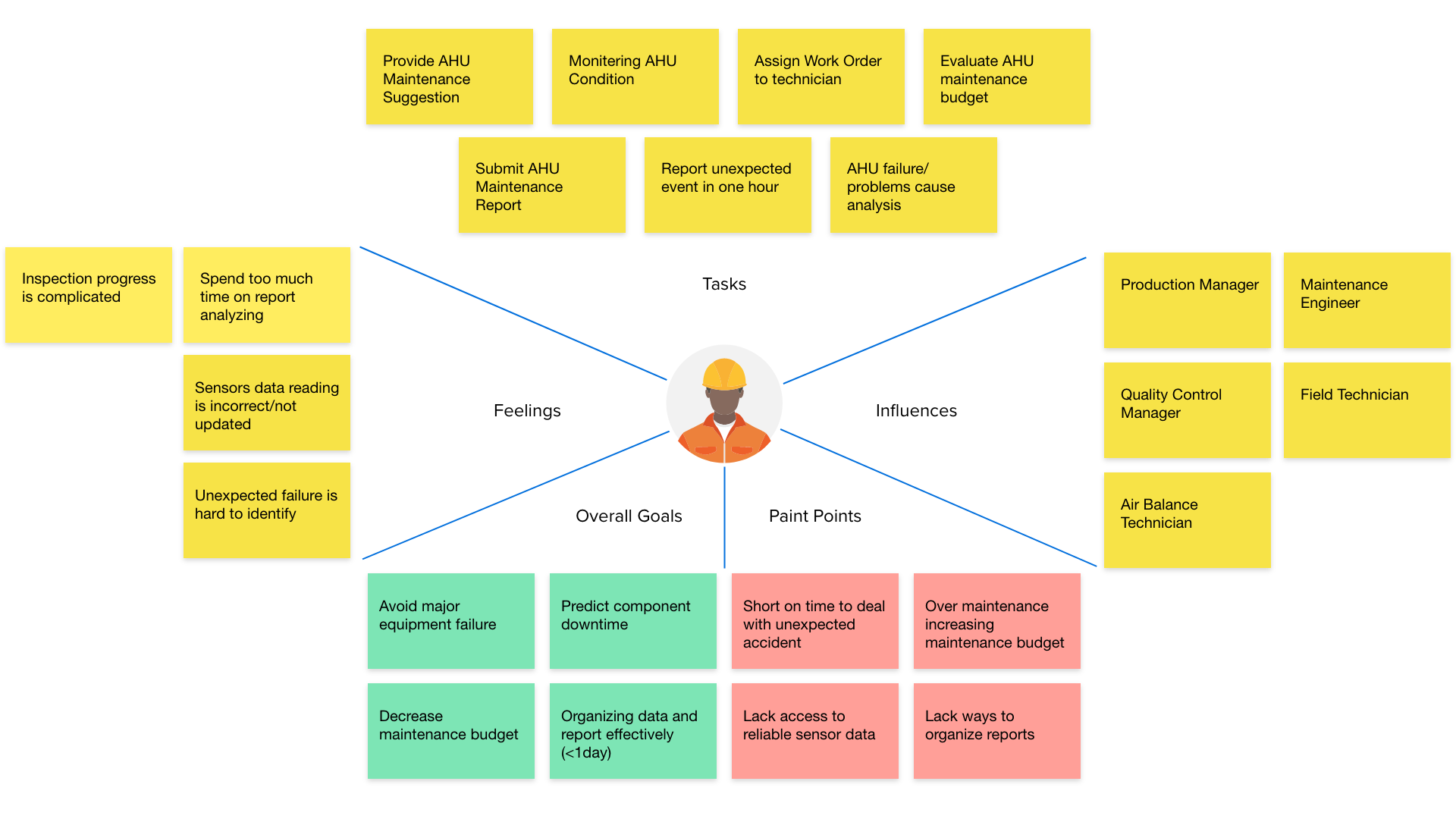 As-Is Pain Points
Over maintenance increases the cost
Occupied too many resources to maintain equipments and made loss, such as assigning redundancy work order to technician for onsite check problems.
Spend a lot of time and depend on domain knowledge to do Root Cause Analysis
Spend 2hrs to several weeks to do root cause analysis from a wide range of problems across 5M1E.
Lacked of way to document the fault solution as experience
Need to have a place to manage all Cause/effect/solution and acceptance knowledge documentations, make them as experience or standard.

To-be Assumption
To-be assumption is one of the methods from IBM Design Thinking. With assistant from my design mentor, I am trying to figure out how can IBM solution help with our client problems and pain points. This is a overall framework of the IoT system, which is broken down into three parts:
1. Monitoring conditions

2. Risks Analysis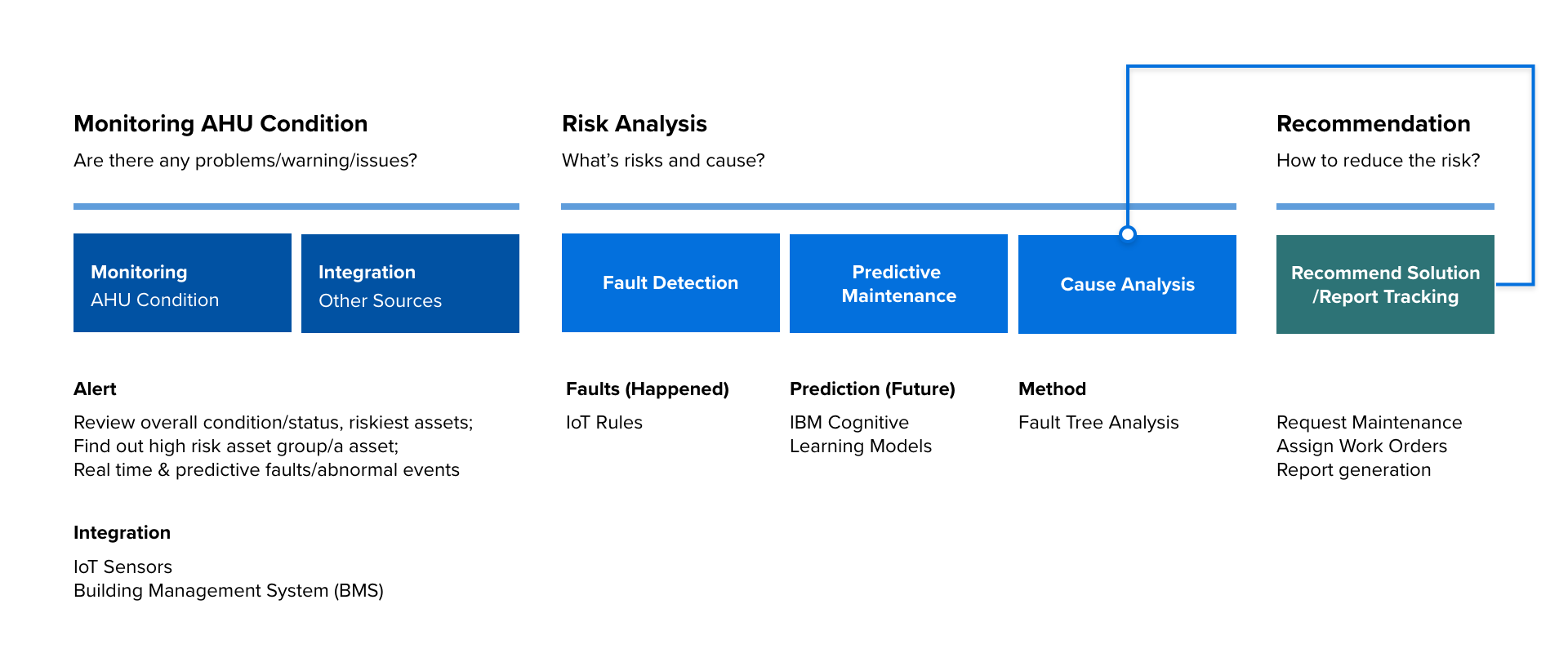 Sketches
This is the process is making all the initial design decisions. For instance, what type of visualization we should use for the interface? Why should we choose pie graph instead of line graph? How to represent AHU components and its relationship with sensors?

I also worked on creating sitemap about the relationship of each page and visual hierarchy of different components on specific page.

The sketch and sitemap helped me a lot to understand how to draw the design mockup in the end.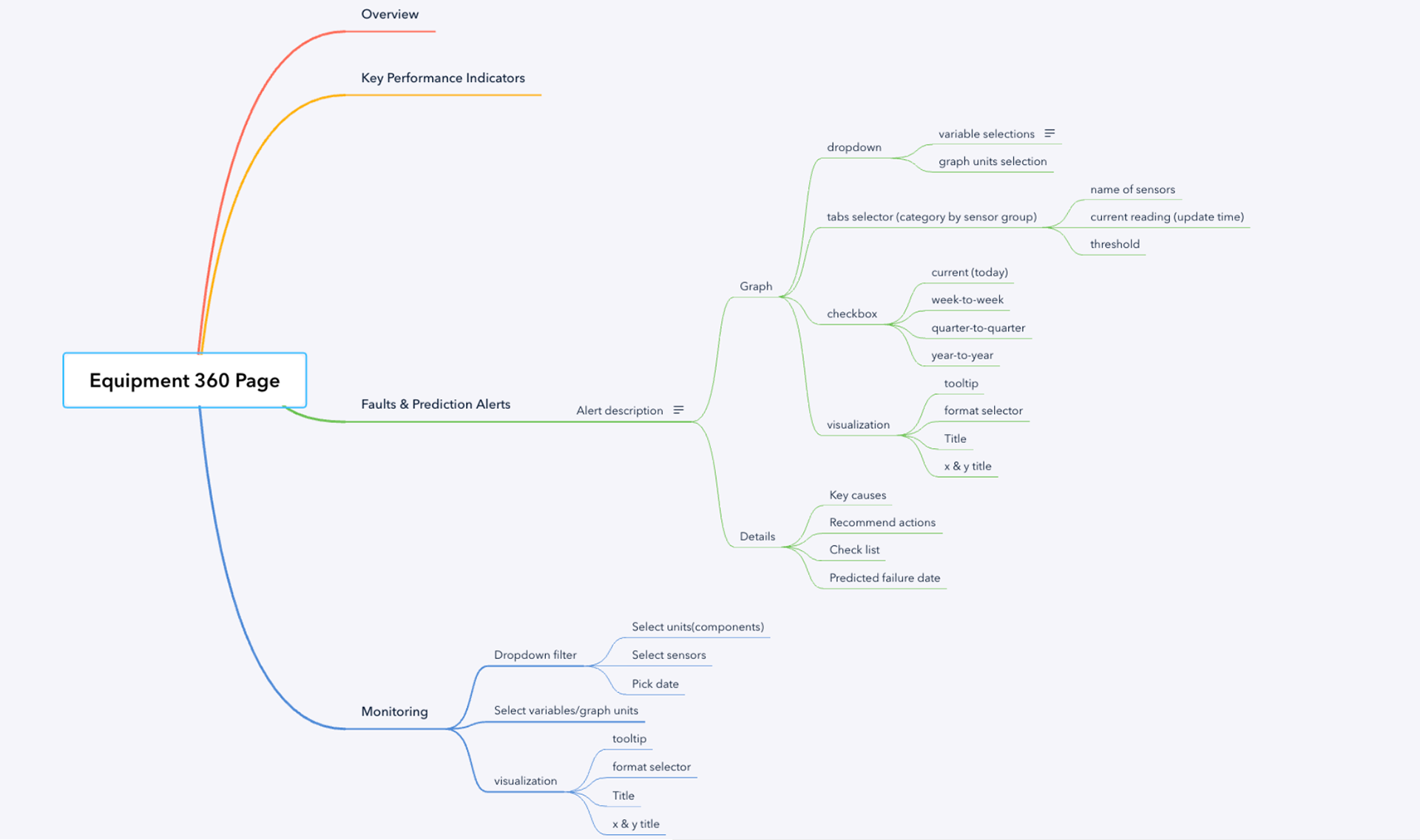 Design Mockup
Note: This is for a general user-flow demo purposes, and there is no actual data involved. 
I can't show an entire workflow as a new function in Root Cause Analysis (RCA) that may be added into IBM Maximo Service. You can reference to current RCA solution here:
Equipment Maintenance Assistant (EMA)
Each design evaluation was under instructions with my Watson IoT manager
Tang Peng
Please send me request for if you would like to see the final design.

Takeaways
This project is just a small portion about what I accomplished during this internship, but I learned a lot during this internship. 
When I am working in a collaborate environment, it is very important to do playback with your team so designers, developer, manager and clients are on the same page. It can make sure the project will be delivered on time. 
It is crucial to understand user's needs and deliver outcomes continuously. It is a loop of observing, reflecting, and making. Also, remember to do playback with your team and stakeholder when there are new iterations. 
Designers should always put functionality as the highest priority. I was highly focus on visual component before, yet now I noticed the importance of receiving insights from my user research. The key is thinking about information architecture before drawing the interface. Always start by sketching. 
Always keep in mind about the color and typeface, and make sure the contrast ratio would suit all types of users. 
Don't just tell features as it would bore audiences. It is better to put the design solution into different scenarios and tell a compelling story. The ability to communicate a captivating, clear story about the designs can be the difference from a yes and a no.
I learned how to apply IBM Enterprise Design Thinking to create a solution for different businesses and industries.. I also learned how to use Carbon Design System to design with a consistent style. This allowed me to learn other design systems and put them in my future workflow.